The new Australian edition of the Transition Handbook is now available for sale from the Brisbane Transition Hub at $34.95 per copy. All profits from the sale of the book will go towards funding the Brisbane Transition Hub and individual Transition Initiatives.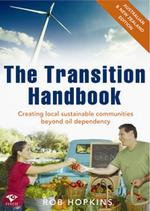 If you want to reserve a copy please email rolfkuelsen@gmail.com.
Good afternoon,
On behalf of Finch Publishing, I am excited to announce the
Australian release of Rob Hopkin's The Transition
Handbook. It's up on our website today and available for
purchasing there or at bookshops across the country.
http://www.finch.com.au/html/s02_article/article_view.asp?art_id=277&nav_cat_id=220&nav_top_id=70
(For bulk orders, see details below.)
Around the world, societies are facing the prospect of a future
with dwindling oil reserves, an unstable climate and
unpredictable food production. The Transition movement, already
well established in the UK, is now in initial but rapid
development here. It provides an effective model for ways we
might engage our local communities to create a more sustainable
future and move away from dependency on oil.
Our edition of The Transition Handbook includes profiles of
Australian and New Zealand initiatives currently underway and
shows the necessary steps to establishing a transition town in a
local area, providing an achievable model for people who would
like to transform the life of their community. These local
accounts (together with inspiring reports from the UK) show how
individuals have responded with their local communities to the
twin threats of Peak Oil and Climate Change.
This practical book explains how we can 'transition'
from fossil-fuel based communities to ones that are more
self-reliant and generate less carbon emissions. It shows how
such changes will result in a greater development of local food,
local economies, local water harvesting and energy generation
– and so create more sustainable communities in the longer
term.
What others are saying about The Transition Handbook:
This is a rare book. Not only does it educate and inspire you on
the path to sustainability, it also shows you how to get their
by being a great "how to do it" manual. It has
already had an impact even before it's release here. Towns
from Katoomba in the Blue Mountains of Australia to Nelson on
the coast of New Zealand are amongst the many communities
already influenced by Rob Hopkins's work. This local
release is sure to inspire many more.' PAUL KLYMENKO,
Planet Ark
'The Transition Handbook clearly sets out the
unprecedented and looming challenges climate change and peak oil
pose for our civilization, and makes it clear that a concerted
community response is our only option. And yet, the book is a
profoundly positive – even joyous – read because
it tells us how working together as communities and facing these
challenges head-on will give us the capacity not just to survive
but to actively build a future that is better than our alienated
and oil-fuelled present. … [It] is your invitation to join a
clear-eyed, community-based, worldwide movement of grounded
visionaries who choose hope and action over denial and
apathy.' NICK HEAP and DAVID SUZUKI, The David Suzuki
Foundation
Bulk copies: If you would like to purchase bulk copies at a
discount, please contact our distributors direct:
Amanda.Hogan@simonandschuster.com.au/. These orders are freight
free but require payment with order.
Publicity for local Transition initiatives: If you are running a
Transition initiative in Australia we would be pleased to
publicise it when we undertake our media campaign for the book
(in the week beginning 23 March). Please send me a couple of
sentences describing your initiative, and the name, email
address and phone number of someone in your group who would be
happy to be interviewed. We'll get in touch with them and
then encourage media in your region to cover this local story.
We would be most pleased if you decided to spread the word about
The Transition Handbook to your professional networks and
friends.
Yours Sincerely,
Emmeline Goodchild | Marketing & Publicity Manager
Finch Publishing – Publishers of books on family, health, social
ecology, relationships & society
PO Box 120 | Lane Cove NSW | 1595 | Australia | Tel 61 2 9418
6247 | Fax 61 2 9418 8878
emmeline@finch.com.au | www.finch.com.au